About the Artist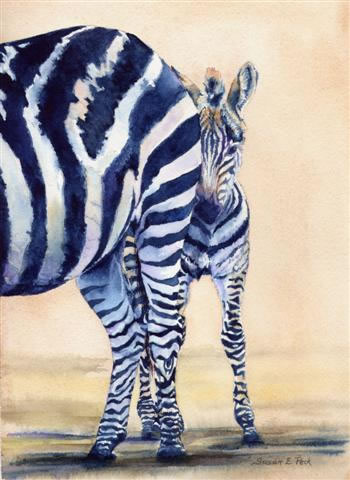 A native Nova Scotian, Susan returned home after twenty years of living in the Yukon and northern British Columbia.
Following a year of Fine Arts in the precursor of the Emily Carr program, Susan attended workshops with some of Canada's most noted artists, including Jack Shadbolt and Anne Meridith Barry. While still working in oil and pastel, she has gravitated to watercolour, which has been her medium of expertise for the past ten years.
"I didn't go searching to be an artist; this career, this internal itch has been rumbling around inside me for almost fifty years. When I finally gave in to the urge to paint full time over ten years ago, it was as if my mind and body gave a sigh of relief. The only other outside source that puts such a look of contentment on my face, according to my husband, is my small herd of horses."
That being said, her life now revolves around those two passions. She loves vibrant colours, and images filled with light and shadow. Combining rich purples, blues and golds to help capture sunlight and graceful curves, she delights in letting the pigments play together, granulate and complement each other. Her subjects are usually children and horses, and her style of loose realism enhances these and other everyday subjects and draws in the viewer. A blue horse, you say? Take a closer look..........
Susan believes that artists have to paint what they know and love. Portraiture, which captures the innocence of children and the strength and grace of equines, allows her to invite the viewer to see their simple elegance. Her goal is to continue studying the art of watercolour, laying down jewel-like glazes of pure colour, and putting a smile on the faces of those who choose to take a second look.
Through participation in annual art festivals, juried shows and one person exhibitions, her paintings have found homes in Europe and throughout North America, in both corporate and private collections.
She currently paints, teaches private lessons and workshops in her studio in Merrickville, Ontario.